When Lachlan Stevens bought His Boy Elroy two years ago, he had a vision to build a brand based on three principles: loyalty, authenticity, and community. Now his grassroots initiative Barstool Brothers is growing.
---
Lachlan has had a diverse and illustrious career. After completing a Bachelor of Arts at the University of Wollongong, he joined the army and completed two tours to Afghanistan as a combat engineer.
He went on to study a Graduate Diploma of Education, before landing a role at Merlin Entertainment, working for brands like Sydney Zoo, Sea Life Sydney Aquarium and Madame Tussauds.
Now he's the owner-operator of local burger bar His Boy Elroy, and the founder of the mental health support group Barstool Brothers.
"It's something that happened quite organically. The staff would be having conversations with customers across the other side of the bar. Sometimes you'd have people coming in groups having a great time, and sometimes people were alone and would just talk about going through some issues. We saw a gap in the market," Lachlan says.
The opening night of Barstool Brothers saw 70 men from all walks of life turn up to the Wollongong venue to enjoy beer, burgers, and casual conversation. Now, with more than 1,000 members and regular events, Lachlan is keen to see the initiative expand beyond his small bar.
"We have run 160 events in the last financial year, some of them include golf, morning walks and trivia at other venues. Those kinds of social events help solidify the relationships of the members of the group with the hopes that through sport, socialisation, burgers, they'll be comfortable to talk to you," he says.
 The development of Barstool Brothers hasn't been without its challenges. The ongoing coronavirus pandemic saw face-to-face catch ups come to a standstill this year, where their monthly get-togethers were moved online.
"We had educational events with Dan Hunt and Chris Houston from the Mental Health Movement providing tips and best practices on coping in lockdown. We held social Zoom catch ups and delivered 158 free meals to Barstool Brothers throughout the 14-week lockdown," Lachlan says.
"That was to not only give them a free feed, but also to connect with them because obviously we had those restrictions in place where whereby you can't go out and socialise. But I thought, 'I'm a burger bar. I can deliver food, touch base and ask them how they're going.' Maybe to give them something to look forward to every week and also give them a little educational book as a takeaway to read up on mental health."
Lachlan says he also had initial concerns around hosting a mental health support network in a bar.
 "When you talk mental health and alcohol, it can be a bit touch and go. If you don't have control around that, it could become messy. But it's also where the magic happens, because you can intercept people when they're at their worst point, drowning their sorrows in a schooner glass."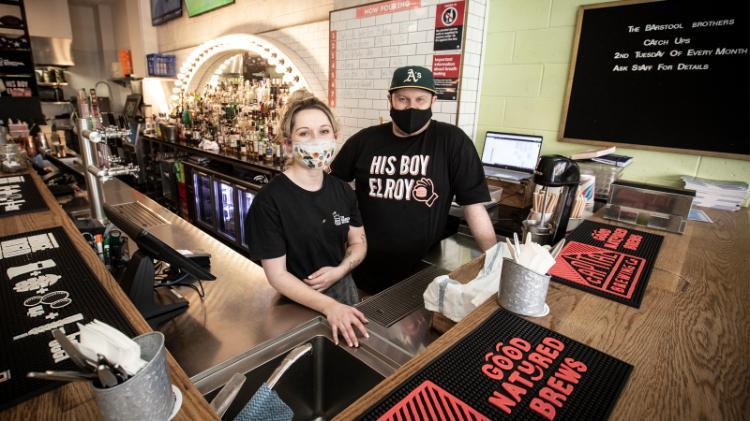 His Boy Elroy staff Grace Matthews and Dan Smith have seen the impact that Barstool Brothers has on the community. 
 Lachlan and his team are grateful for the support they have received since starting Barstool Brothers two years ago, but greater demand for their services means they are outgrowing what they can provide.
His staff had to call emergency services on four occasions during the latest lockdown – something he thinks is having a big effect on hospitality workers.
 Lachlan is collaborating with the wider community to gain official not-for-profit charity status, with the aim to expand Barstool Brothers across the Illawarra and Australia.
"We've reached a point where we feel obligated to make this official and put a bit of structure around it so we can scale," he says.
Lachlan says the collaboration with mental health professionals he been ongoing, and while he is thankful for the generosity of his staff who have been donating their tips to the initiative, he hopes that becoming a not-for-profit will provide more credibility and stability for the cause.
"We know this [men's mental health] is going to be an issue in our bar whether we have a Barstool Brothers or not. So, becoming a charity will give us the framework of staff being trained, knowing where to direct people for clinical support, and knowing how to have those conversations."